Nuestros productos están creados, desarrollados y personalizados en cada caso para atender sus necesidades adaptándose además  a las respectivas normativas locales.
Póngase en contacto con nosotros rellenando el formulario y le aclararemos sus dudas. Si desea venir a nuestra oficina, nuestro equipo de profesionales estará encantado de atenderle.
Our products are created, developed and personalized in every case to attend to his needs adapting in addition to the respective local regulations.
Put in touch with us refilling the form and we him will clarify his doubts. If it wants to come to our office, our equipment of professionals will be been charmed with of attending to him. 
ORDENADOR DE JUEGO AB-400 / GAMING COMPUTER AB-400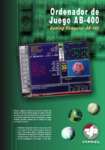 Ordenador de Juego AB-400. El atractivo diseño gráfico de sus pantallas hace fácil y cómoda la gestión de la partida, dando múltiples opciones visuales para el manejo del juego en cualquier momento.

Gaming Computer AB-400. The attractive graphic design of each of the screens makes it extremely easy and comfortable the management of the game, it gives multi visual options for the operation of the game at any time.


VIDEOTECLADO LABVT-07 / KEYBOARD LABVT-07

El Videoteclado integra la funcionalidad del Teclado del Locutor 
y del lector Automático de Bolas (LAB) en un solo producto


 a través de un interfaz gráfico.




The Videokeyboard combines the functionality of Speaker
keyboard and the Balls Recognition System (BRS), in a single 


product through a graphical interface

. 

P.I.D. PANTALLAS INFORMACION DINÁMICA /DYNAMIC INFORMATION SCREENS
TERMINAL DE SOBREMESA E.B.S. / E.B.S. DESKTOP TERMINAL
Terminal  E.B.S. para diferentes modalidades de juegos de Bingo. 
Portátil compacta con Pantalla Led 20" táctil capacitativa y  aceptador de Billetes y stacker de hasta 500 billetes.
Terminal E.B.S. for different types of Bingo games.
Portable compact  with Led 20"t capacitative touchscreen and Bill acceptor with stacker up to 500 bills.
TERMINAL QUICK-BINGO EBS TV /QUICK-BINGO EBS TV TERMINAL
Quick-Bingo Portatil, el ordenador personal de juego que multiplica la rentabilidad de su sala.
Sintonizador de TV Digital (TDT). Panel de 90 números, bola digitalizada y hasta 8 cartones mas cercanos al premio.
Posibilidad de juegos flash y acceso a internet durante la partida: Facebook, webs de tiempo, noticias,etc...
Quick-Bingo portable,the personal gaming computer that mutiplies the profitability of your hall.
DVB-T with multiple TV channels. 90 numbers board, digitalized ball,up to 8 tickets close to the prize in screen.
Possibility of flash games and internet browsing during the game: Facebook, weather, news, ...
APP QUICKER Para Tablets Android / APP QUICKER for tablets O.S. Android
Aplicación compatible con cualquier tablet de S.O. Android
Sistema versátil, inhalámbrico, ligero y cómodo.Total libertad de uso en cualquier punto de la sala.
Disponible para la venta electrónica en las diferentes modalidades de Bingo Electrónico de Sala.
Application compatible with any S.O's tablet. Android.
Versatile system: wireless, light and comfortable. Total freedom of use in any point of the Bingo Hall 
Available for the electronic sale in the different modalities of Electronic Bingo of Hall